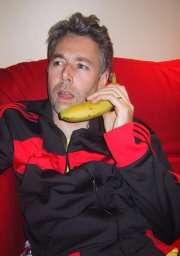 For people who didn't know MCA personally, sharing private Beastie Boy memories is their way of mourning a seminal influence on their childhood.
I wanted to wait a few days before posting anything and let things kind of settle in. When License to Ill came out I was 9. There was a 16 year old girl named Veronica who live upstairs in my apartment building, and she would look after my sister and I frequently. One night she brought down this record with a plane crash on the cover and played it loud in my living room. I was amazed at the art on the gatefold. Veronica explained to me that it was a cigarette and that pretty much blew my mind. I remember hearing something that I hadn't really heard before. I remember "Hard Times" and The Fat Boys, but this was something different. I asked my grandmother to buy me the album for Christmas.
The following Halloween, after playing the record incessantly for almost a year, my friends Micah and Jamie joined me in dressing as 10 year old versions of the trio. We actually rhymed along with Paul Revere for Jamie's parents. I got the tape of Paul's Boutique when it came out, but I don't think my ears were ready for what was on that record. It wasn't until college that I REALLY rediscovered it.
AK and I have spent the past couple days going backwards through the discography. Some of which, I had barely scratched. Last night we drove home from Philly and listened to License to Ill in the car. I haven't had that much fun on a road trip in a long time. I wonder how many people just like us, are driving around, rhyming along with MCA. That's the best tribute I can imagine.
As a humble homage, Tom has put together this mix tha is a journey through some of the great sources, originals, and remixes that are some of our generation's only true classics.
Upcoming Events

Doc Delay on ITunes

Search Blog

Categories